<! -- Blog Post -->
Intro to littleBits
What is it ?
littleBits are an open source electronic module platform of electronic building blocks that are designed for prototyping and experimenting with electronics. They're a useful and fun tool for learning about Internet of Things and basic circuitry, though they are a little more expensive to get started with than other electronics kits.
The company was started by Ayah Bdeir and, for the most part, the Little Bits circuit designs are open source.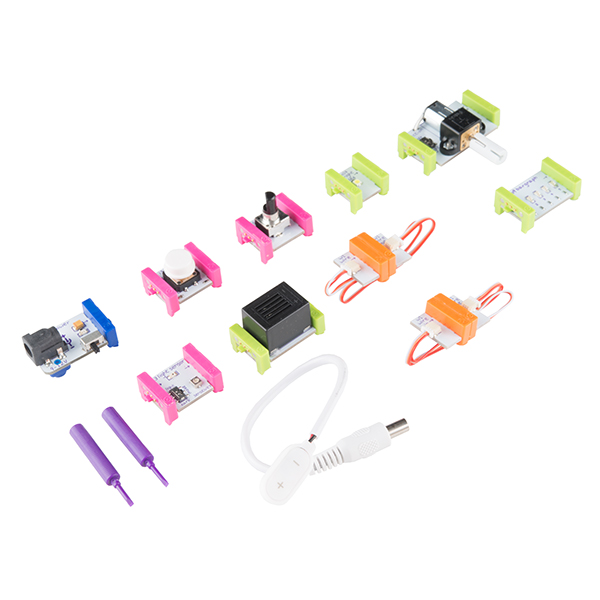 The modules are colour-coded and there are currently over 60 modules in the library that can be connected to form different combinations.
The Power Bit, Battery & Cable You need a power Bit, a 9V battery, and a littleBits battery cable to start a circuit.
Bits are grouped into four color-coded categories:
POWER is blue - every circuit needs a power bit to start with

INPUT is pink. These provide information and signals to the Bits

OUTPUT is green. These are the 'doing' bits. They complete an action or a task (such as a light or movement). These

WIRE Bits let you expand the circuit's reach and change direction and can also be used to add programmability to your circuit.
Order of operation matters - Always start with a Power bit and remember that input Bits only affect the Bits that come after them.
Recipes
There are a series of lessons for littleBits on the official website, including beginner and intermediate tutorials. You can also upload your own.
Check out the 'Hack my House' workshop for beginners which includes the 3-d paper structure templates to download and use.
litleBits CloudBit QuickStart Guide (PDF) - by Invent To Learn
Case studies
DIY Clubs in the Library Makerspace - Spotlight on the Duxbury Free Library
More info
The official site at: https://www.littlebits.cc/